Hugo - Engineering in a spectacular way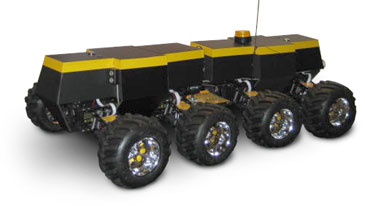 - FAC-system mechanical design
- Motors and electronic system
- Digital control system
- Hugo's consciousness and interpretation of reality
- Costs and purchase
- Further info (mail)


- Hugo is not only a spectacular machine making you think of space research, but it is also a demonstration platform for a couple of advanced technologies, which all together result in a major total value: an autonomous vehicle, Hugo has an artificial intelligence.
Hugo is able to show everybody the technique, no matter how much time you wish to spend on understanding the system yourself. And the best part is - you are able to build it yourself..

An extreme model

Hugo is an eight wheel articulated vehicle, 120 cm long and weighs 25 kg. The wheels have an individual suspension and own motors with associated gear box.
Hugo has a digital compass, camera and several radio relay links. When running, camera data and data parameters are sent to a receiving computer, which through implemented vector geometry is able to exactly locate Hugo. Through a map in the computer, the control system is able to detect any obstacle and to inform Hugo how to navigate in order to avoid it. For the operator's information the images in the camera can be shown in a window on the screen.